Free Delivery in Australia on Orders over $100
Magnificent Harrowdene Quality Jewellery & Watch Boxes.  Our luxury range is made from the highest quality materials, including wood, in beautiful designs and features such as internal mirrors, drawers, quality velour lining & cantilever hinges.
30 DAY MONEY BACK GUARANTEE: You can return any item you purchase if you change your mind.  See Refund Policy
For Pickup see Contact Us.
Check below for other quality gifts on this site: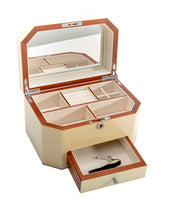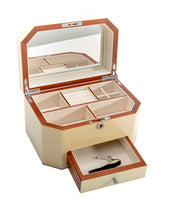 Harrowdene Jewellery and Watch Boxes
Our luxurious range includes Rosewood, Brazilian Rosewood, Tiger, Magenta, Stingray, Blue Lizard and Matt Off White wooden boxes and a high quality polyurethane range.
Lacquered to rich Piano Finish and cross-grained timber, with varying wood finishes. Wood inserts on the compartment dividers. Cantilever or covered piano hinges, in brass or chrome
Most with internal mirrors with key locks and high quality velour.
High quality Royal Blue drop-fronted gift presentation boxes in many models, where detailed.